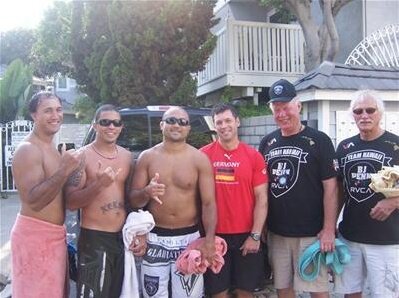 BJ Penn took to twitter earlier today to post a photo of him with a familiar face, one that spent time with him during the height of his career:  Gary and Marv Marinovich.  If you recall, the two of them are famed strength and conditioning coaches and were responsible for whipping Penn into shape during some of the brightest times of his career, as well as during some of his darkest days.  Regardless, the two have quite a successful track record.
In the photo, Penn appears to be in outstanding shape.  After suffering two very hard fought losses to both Rory McDonald and Nick Diaz, Penn could possibly finally make his return against an opponent who he was more evenly matched with in Jon Fitch.
Marv, @bjpenndotcom, and the rest of the crew enjoying their day after an intense #workout. pic.twitter.com/GY0FxlAp
Penn and Fitch fought to a controversial draw a few years ago.  Many fans saw it both ways, Penn taking the beginning and Fitch the end rounds.
Penn has not announced anything as of yet, only the fact that he was "intensively training".